About Us
Bruin Builders is a product of Pinedale, Wyoming and the wide-open spaces and friendly small-town atmosphere that make the area special. Like the community, Bruin Builders finds strength in its down-to-earth and personable approach to construction. The company builds with its clients and not just for them. Construction projects of any size can be stressful and tiring with the amount of planning, financial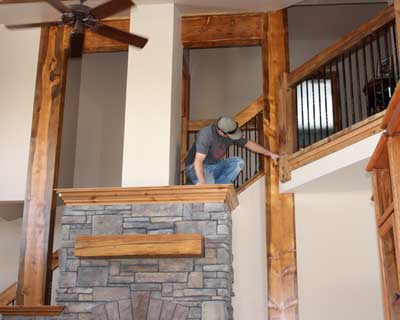 considerations, time, and hard work that are involved. There is no better way to have things go smoothly than to have a relationship between the client and contractor that is founded on trust and mutual understanding.

Since 2004, Bruin Builders has been operating in Pinedale, building numerous homes, commercial projects, remodels, repairs, and countless other projects of varying size. The company's owner, Joey Majhanovich, has deep roots in Western Wyoming. A third-generation Wyomingite from immigrants who found work in the coal mines of Sweetwater County, Joey has spent his entire life in Pinedale and among the hills and river-bottoms of the scenic Upper Green River Valley. His experience and knowledge of the local craftsmen, land, and weather are all great assets in getting a project done in this unique, and sometimes harsh, high mountain climate.

Covering a wide-range of construction work, Bruin Builders has many services to offer:
New Home Construction
Roofing
Commercial Projects
Tiling
Remodels
Rockwork
Additions
Bathrooms
Repairs
Kitchens
Custom Woodwork
Fireplaces
Framing
Looking for something else? Contact us...